As Dorigo Systems continues to grow, it is attracting some of the city's top talent to work at its new world-class manufacturing space in Burnaby, BC. Do you want to know what our team thinks about working at Dorigo Systems? We recently asked them for their valuable feedback and here are some of the highlights!
Are you interested in joining our team? Check out the current job openings or send your resume to HR@Dorigo.com to be considered. Also, read our Leadership & Diversity series that features Dorigo's Aimee Jo Milendres and Kain Xu.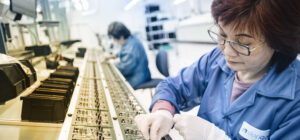 Why work at Dorigo Systems?
We are a 100% locally owned and operated business. You can support products designed and built in Canada!
We have a long and well-respected history of building the highest quality products.
Our Production floor offers a modern and well-organized work space with the opportunity to work with some of the most advanced manufacturing equipment in the electronics manufacturing industry.
There are always opportunities to grow as the business continues to expand.
We're a solid and stable choice providing over 30 years of electronics manufacturing excellence to some of the top OEMs throughout North America.
What makes Dorigo Systems a great place to work?
There's a true "team spirit" that exists throughout the company. No matter what challenges we face, we overcome them as a team which is why the company continues to grow.
We take time to celebrate wins and successes!
The new manufacturing facility offers modern amenities and an infrastructure that promotes a clean and safe work environment for everyone.
The diversity of work makes it rewarding and fun to learn new technologies.
How do you describe Dorigo Systems' work culture?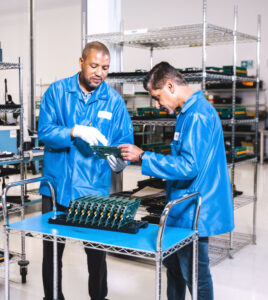 Dorigo's culture promotes learning and professional development and encourages great ideas and continuous improvement initiatives.
Energetic! It's a work environment where a lot gets accomplished every day.
Very customer and quality focused which is essential for being successful in electronics manufacturing.
Dorigo Systems promotes diversity. You get to work with people from virtually every nationality which gives you an appreciation for these different cultures.
You don't feel like a number, there's a true feeling of being part of a team with managers and management that care.
We always use the opportunity to recognize individual and team efforts and achievements.
Very open, flexible, goal-oriented and respectful.
We work hard, but also do not forget to have fun and celebrate successes together.
What does a typical day look like on Dorigo Systems' manufacturing floor?
If it's a sunny day, we get to work in a building with Smart Windows that let in lots of natural light.
We start our day sitting down with our team members and having breakfast together.
As soon as the shift starts, you will find that time flies by very fast! You get submersed in what you are doing.
If you need help, there is always someone there to find ways to help you if you need it.
Shift starts at 6am or 7am, daily production tasks are assigned by supervisors and team leads after the morning production huddle and the goal is to complete customers' orders in a high-quality manner.
Coffee and lunch breaks are wonderful times for teams to decompress and re-energize from a focused job in our large cafeteria.
When walking through Dorigo, you can see teams collaborating on work ideas and production tasks. There's a nice working feel that speaks to our productivity.
What will you gain by joining our team at Dorigo Systems?
You will be joining a team that is proud to be part of the Dorigo's family and working in a facility which offers the highest standards.
Since Dorigo is one of the fastest growing manufacturing companies, there are always opportunities to advance your career path, to get promoted and to dive into a deep sea of knowledge.
Our world-class facility gives you and exceptional work environment with some of the best health and safety standards and enticing employee benefits, including:

Ample free parking – including EV charging stations
Private lockers
Gym with advanced workout machines and cross fit equipment
Yoga room
Cafeteria surrounded by windows, touchless water dispensers and coffee stations

A social committee that plans team building, fun activities and events.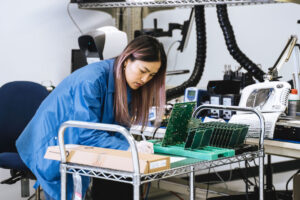 What qualities do we look for in people to be successful here? 
Skilled, driven individuals who are dedicated to personal growth and success of the company.
Flexibility, initiative, creativity, personal accountability, taking ownership, and high motivation/energy.
Technical aptitude, passion for electronics and tinkering with electronic components.
What values do you recognize at Dorigo Systems on a daily basis and how do you experience them?
The warmth of staff and their devotion to customer fulfillment.
Treating people with respect – I see that every day.
Diversity – the opportunity to work with some great people.
Continuous learning and improvement.
Excellence and commitment.