March 8, 2021 was International Women's Day, a day for us all to celebrate women's achievements and a call to action for the rest of the year to increase the visibility of these achievements.
To keep the momentum going, we've interviewed Kain Xu, Dorigo's Quality Engineer, as part of a series of interviews that celebrate how the diversity of our team makes us stronger from engineering, manufacturing, quality control to delivering a seamless customer experience.  
Meet Kain Xu, Dorigo Systems' Quality Engineer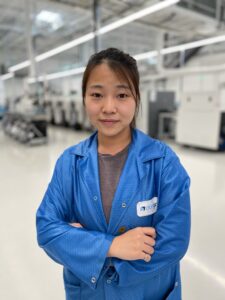 Eight years ago, Kain Xu was confronted with a decision. Should she take sciences or applied sciences? For her, Applied Sciences seemed more practical, so she registered for the Mechanical Engineering program at the University of British Columbia.
It turned out to be a great choice as she enjoyed solving complex engineering problems. Mechanical Engineering is a diverse field that applies to physics and mathematics to analyze, design and build mechanical assemblies.
Kain was able to participate in UBC's Capstone Design Project, where students work in teams to solve problems for real industry clients, along with the ability to join their international internship program which took her to Germany.
What did you enjoy most about UBC's Mechanical Engineering Program?
I found that we all worked together to solve problems and the study environment was very supportive. Gender made no difference at UBC and, as a result, we were all provided with equal opportunities and expected to make equal contributions.
In 2016, I was able to participate in UBC's internship program and was hired by Bosch to work in their Research and Development campus located in Stuttgart, Germany.
It was during this internship that my interest in electronics manufacturing grew. I was fascinated by how small IC chips and components can do so much! I knew from this experience that I wanted to pursue a career in Electronics Manufacturing.
What attracted you to join Dorigo Systems' team?
I had returned from my internship and was looking for the right opportunity in Electronics Manufacturing. It turns out that Dorigo Systems was hiring and the position of Quality Engineer sounded interesting, as it not only allowed me to solve complex problems, but also encouraged me to be forward facing with customers.
Dorigo Systems has offered me much more than I expected as their Quality Engineer. I get to solve problems, help people and learn about new technologies all the time. Besides that, I also really enjoy the team culture at Dorigo. There are people from different backgrounds that are encouraged to help each other, and they do! It's a positive cultural environment where everyone is empowered to make a difference.
What sorts of projects do you oversee at Dorigo Systems?
Dorigo offers electronics manufacturing to a diverse customer base. What that means for me is that there are a multitude of products on the manufacturing line at any one time, from medical devices, automobile equipment to semiconductors.
My role is to be a problem solver where I am the first point of contact. When production needs help, I offer up solutions. In addition, I provide customers with Design for Manufacturing suggestions. It's not enough to spot problems, to be efficient in my role, it is important to be able to offer a complete picture and give solutions to the team.
What have you learned from working at Dorigo Systems for nearly three years?
This is a fast paced work environment. Showing initiative and helping people is really important to being successful in my role.
I am always encouraged to ask questions and feel comfortable in asking for help when I need it. That's something that I've learned from my education and work experience, that it's really important to speak up and ask for help.
Working in an environment that encourages you to not only jump-in, but ask questions, is really great. It makes you far more understanding and appreciative of different viewpoints.
Every day, there are new challenges to face in order to improve processes and increase product yields for Dorigo's customers. It's a challenge that I really enjoy.
Kain's favourite saying comes from Tara Westover in her book entitled, Educated:
"She was just a cockney in a nice dress. Until she believed in herself. Then it didn't matter what dress she wore."