"Our customers demand the best. It's why everything we make has Dorigo Systems electronics in it."
Kelly Smith, ASQ CMQ/OE, QHSE Manager, Kongsberg Mesotech, is not shy about describing the 22-year relationship between Kongsberg Mesotech and Dorigo Systems. It is a relationship that is predicated on respect and integrity.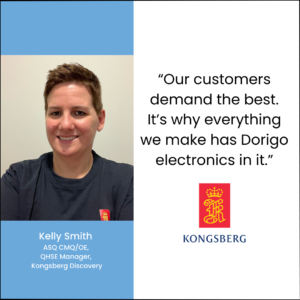 As Kongsberg Mesotech celebrates its 50th anniversary, their mission is to provide the most innovative solutions and advanced technology for underwater mapping, imaging, and surveying. Now renamed Kongsberg Discovery, their products are used in a diverse range of industries including marine research, underwater construction, and environmental monitoring that is driving ocean protection and research further.
Agile Electronics Manufacturing for Innovative Designs
Kongsberg Discovery's ocean sensors are equipped with the electronics made by Dorigo Systems, a company that strives to provide the most reliable and highest quality in printed circuit board assemblies. Dorigo Systems works closely with Kongsberg Discovery, an original equipment manufacturer, to understand their needs and expectations. A dedicated team consisting of a product engineer, buyer, material planner, and account manager from Dorigo Systems collaboratively ensures that Kongsberg Discovery receives optimal value from their partnership.
Dorigo Systems stands out for its agile manufacturing, long-term partnership approach, flexible yet dependable services, and commitment to customer satisfaction. The company's extensive capabilities span advanced manufacturing, supply chain management, design and engineering, and global order fulfillment, making it a comprehensive solution for clients seeking quality products and highly responsive customer support.
"I have worked directly with Dorigo for the past ten years and we have witnessed a lot of change from new team members, product evolution, to managing the global supply chain crisis," says Kelly. "At every step, Dorigo was troubleshooting issues, there was no second guessing."
Read the entire story featured in EP&T Magazine