We've interviewed Manish Choubey, Dorigo's Production Team Lead, as part of a series of interviews that celebrate how the diversity of our team makes us stronger from engineering, manufacturing, quality control to delivering a seamless customer experience. 
Manish Choubey has been working at Dorigo for nearly a year. He has already been promoted into a leadership position where he manages up to 11 people on the manufacturing floor.
Meet Manish Choubey, Dorigo Systems' Production Team Lead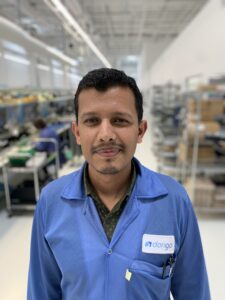 When Manish joined Dorigo Systems, he was seeking a work environment where he could advance his career, and Dorigo has delivered. He is impressed by how the management team at Dorigo Systems supports his ideas and that his voice is always heard.
Where did you obtain your Electrical Engineering degree?
I grew up in Punjab, located in Northwestern India, and in 2009 I immigrated to Canada with my family. We first lived in Vancouver and then moved to Edmonton for two years while my wife was completing her Doctorate in Dentistry at the University of Alberta. After her graduation, we decided to move back to Vancouver. I obtained my Electrical Engineering degree in India and became certified to work in Canada after completing BCIT's International Credential Evaluation Service (ICES).
What was your first position at Dorigo Systems?
I started as a SMT operator, and I immediately enjoyed coming to work. For me, I appreciated the friendly, family-like work environment where people can have open and honest communication. I also enjoy the shift hours so I can work early and be home to spend quality time with my family in the evenings.
I knew that I could flourish here. That's why six months after working at Dorigo Systems, I applied for the Production Team Lead position. I believe that you can only advance in your career when you are happy and motivated.
What do you do as Dorigo's Production Team Lead?
At Dorigo Systems, I oversee a specific customer assembly line which focuses on power conversion assemblies. My role is to constantly improve the quality and efficiency of the manufacture of their PCBs working with my production team. I also focus on creating an inspiring team environment promoting open communication.
I am always willing to learn and I know that Dorigo will continue to support my ideas. In fact, I have enrolled in a BCIT supervisory course to enhance my skills. I am committed to making a difference everyday at Dorigo Systems.
Working at Dorigo's world-class facility in the Glenlyon Business Park provides me with a bright and welcoming place to come to everyday. There is plenty of space to social distance while doing your work. I really like eating lunch in the staff lunch room which has lots of windows. I am very excited about using the staff gym once it is opened post-COVID.
What do you like best about working at Dorigo Systems?
Our management team is accessible. It makes solving any challenges that come up easier. I believe that management respects me and my contribution. I feel part of the team! I never feel tired about coming to work. When I get here in the mornings, I am excited about the day ahead.
Do you have a favourite poem or saying that inspires you?
There's no greater thing you can do with your life and your work than follow your passions – in a way that serves the world and you."
-Richard Branson