We've interviewed Keith Jensen, a Product Engineer at Dorigo Systems, as part of a series of interviews that celebrate how the diversity of our team makes us stronger from engineering, manufacturing and quality control to delivering a seamless customer experience.
Meet Keith Jensen, Dorigo Systems' Product Engineer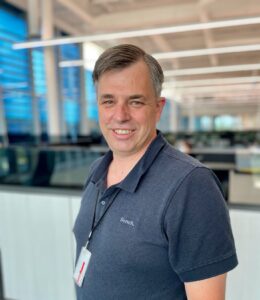 Keith was born and raised in British Columbia and grew up on Vancouver Island. He has always had a love for figuring out how things work. Growing up, he was the one who would take apart something to "see" all the moving parts. He still loves to build things and finds electronics fascinating.
What inspired you to be a Product Engineer?
Building things is fun for me. I love to figure out what makes things work and look for ways to make them better. Combine that with my ongoing love of electronics, and I knew that I wanted to pursue a career that enabled me to focus on design and engineering. So, I enrolled in the Electronics Engineering Technologist program at Camosun College on Vancouver Island to gain knowledge and certifications to start my career.
Why join Dorigo Systems' Engineering team?
I actually got to know Dorigo through my work as a customer of the company. At that time, we used Dorigo's quick turn electronics manufacturing services. When my contract ended, Dorigo was hiring and I jumped at the opportunity to join their Engineering team. I started as a Manufacturing Engineer working with all of Dorigo's customers. It was my responsibility to release jobs into production by completing the necessary reviews and process instructions.
What do you do today as a member of Dorigo's Product Engineering team?
As a Product Engineer, I oversee the mature production customers' projects at Dorigo. I work with our long time customers to bring new and innovative products to market. The majority of these projects are PCBA and mechanical assembly with test services.
What is a typical day like at Dorigo Systems?
Most days I am getting projects released into production, completing NPI's in FactoryLogix while ensuring stencils and tooling are ordered. There never is a typical day really as the customer projects are so varied. I work with startups and the bigger established companies. The variety of work is great and what has kept me here at Dorigo Systems for such a long time!
What is it like to be part of the same team for over 16 years?
The Product Engineering group at Dorigo is a strong team that is always striving to improve our services. We are constantly learning new software and using new state-of-the art tools.  I am always learning something new which makes the position interesting and keeps me coming back for more. I am always looking for ways to improve what we do. It's a challenge that I embrace.
What do you need to do to be successful as a Product Engineer at Dorigo Systems?
I believe that you have to like change. It's truly the one constant in my job. You also have to be able to perform under pressure. Electronics manufacturing is a time sensitive business so you are always driving towards deadlines. Knowing how to manage the critical items that need to get done every day and taking a 'big picture' view of the entire manufacturing process is an asset.
Do you enjoy working at Dorigo's new world-class facility?
Yes, it's so bright and spacious! I love the lunch room as you get to sit in a room with lots of windows and sunlight looking outdoors. I am looking forward to using the staff gym once we work through the ongoing COVID-19 pandemic. Overall, it's a bright, cheery work environment. I really enjoy it.
Do you have a favourite poem or saying?
"It always seems impossible until it's done." – Nelson Mandela