Dorigo Systems continues to expand their electronics manufacturing services throughout North America, with a growing business development team that now includes Scott and Taylor Wagemans located in Washington state. Dorigo Systems reached out to their organization,  HCW Sales LLC ("HCW") several years ago to help American manufacturers and OEMs bring their great ideas to market.
We interviewed Scott and Taylor to better understand what it takes to support OEMs in the United States and why working with Canadian contract manufacturer, Dorigo Systems, is such a smart choice.
HCW provides solutions to OEMs in the automotive, agriculture, telecommunications, electronics, solar, marine, medical, construction and heavy equipment market sectors. More and more they are working with companies that are leading the way in the electrification of vehicles and marine vessels.
Taylor and Scott are brothers who are both mechanical engineers. They know how to speak the language of design engineers and do their best to facilitate targeted conversations that bring together service providers and manufacturers.
Companies that are seeking to find a source for custom prototype or production assemblies are ideal candidates for HCW provided solutions. Both Taylor and Scott take the necessary time to understand a customer's needs and discover how their capabilities can offer targeted solutions for the client.
What makes you successful in working with American OEMs and high technology manufacturers?
"The manufacturing sector in the Pacific Northwest is enormous," states Taylor. "Developing relationships where we can be onsite with customers is what we strive to achieve. While our focus is primarily on customers in Washington, Oregon and Idaho, we also support business development in California and the upper Midwest."
What is it like to represent Dorigo Systems which is based in Burnaby, BC (just outside of Vancouver, BC) when you are working with customers in the United States?
To many OEM's throughout the West Coast of the US, Vancouver BC is relatively unknown as a manufacturing city. "At times, Vancouver almost carries with it a feeling of being off-shore. We're working hard to change that perspective," states Scott. "If you look at a map, Vancouver BC is actually closer to Seattle (143 miles) than Portland, Oregon (174 miles)."
Due to recent supply chain issues, more and more US companies are seeking to 'onshore' the manufacturing of their products. Working with an electronics manufacturer that provides manufacturing service in North America is an option worth considering.
"What we have seen is that the border that divides the US and Canada matters less and less when it comes to manufacturing," clarifies Scott. "OEMs are seeking high-quality assemblies which is something Dorigo Systems has a reputation for delivering."
What is the manufacturing sector like in Washington state?
According to Taylor, Washington state is a powerhouse for manufacturing. "There are a lot of companies that are seeking suppliers in the areas that we represent," says Taylor. "At HCW, there is a lot of synergy built in between suppliers. The cross-over is beneficial to securing new contracts and an advantage to all of the manufacturers that we represent."
Are Canadian manufacturers across the border off the radar for OEMs in the Pacific Northwest?
"We're working hard to change that perception," says Scott. "If you drive three hours north from Seattle, you arrive at Dorigo Systems which has a state-of-the-art facility."
Dorigo Systems has several decades of experience with exporting into the Pacific Northwest, which makes sourcing Printed Circuit Board Assemblies easy for US companies. All export activities align with the CUSMA/USMCA free trade agreement. This free trade agreement makes a Canadian electronics manufacturing service provider, like Dorigo, much more seamless to a US OEM, than an offshore supplier in Asia.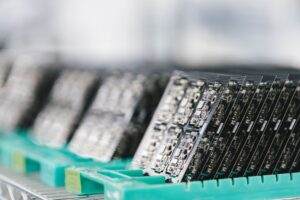 What is the key to bringing together the right mix of manufacturers and OEMs so innovative products can come to market?
"Setting realistic expectations is so important to the process of being successful."
According to Taylor, bottlenecks are impacting virtually every industry. "For new customers, evaluating alternative suppliers is a smart way to build a thriving manufacturing ecosystem. Taking a long term approach to solving supply chain issues is best, as everyone is working hard to deliver the goods."
What was it like to visit Dorigo Systems for the first time?
"Dorigo Systems is unlike any manufacturer that we've ever seen," declares Scott. "You walk into their natural light filled foyer and you know that you're about to see something really different. Clearly, Mark Pillon, P. Eng, the founder of Dorigo, knows that you attract the best people when you create such an outstanding work environment."
Dorigo Systems embarked on the next chapter of the company's planned expansion in 2020. Its new facility located in Burnaby's prestigious Glenlyon Business Park features a custom-built corporate campus with over 105,000 square feet of manufacturing space and is capable of handling any project required by OEMs and industry innovators all in one location.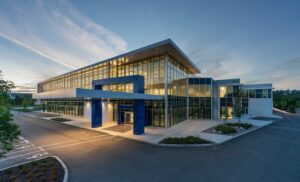 "You can tell that Dorigo Systems has invested in a strong foundation that will last for years to come," says Taylor. "When you walk the manufacturing floor, you can see that Dorigo is being built to manufacture electronics differently and in an environment that brings out the best in their people."
Both Scott and Taylor work closely with Paul Vasvary, Business Development Manager at Dorigo Systems along with Dorigo's customer Account Managers to onboard the latest ideas and designs. The company is renowned for its Design for Manufacturability (DFM) capabilities that optimize how PBCAs are manufactured for lowest cost and the highest quality.
Scott continues, "From automated SMT assembly of the latest microBGA components to selective soldering of high density I/O connectors, Dorigo's team and sophisticated equipment can handle virtually any project. We're excited to bring these capabilities to American companies in the Pacific Northwest."
Are you an American company seeking an electronics manufacturer? Reach out to Scott and Taylor Wagemans  at HCW Sales LLC for an introduction to Dorigo Systems.