We are delighted to announce that Aimee Jo Milendres has been promoted to the Director of Business Operations position at Dorigo Systems. Aimee has been an integral part of the Dorigo Systems' team for over 15 years, serving in a multitude of roles to support the company's growth, particularly in recent years as Dorigo moved to its new state of the art 106,000 SF facility in Burnaby's Glenlyon Business Park.
"Aimee's appointment to Director of Business Operations will allow her to expand her leadership functions and continue as a key catalyst towards driving the company's vision and execution of performance goals," said Mark Pillon, P.Eng., Founder and President. "Her professionalism and long history of experience at Dorigo working with a broad range of customers has made her a natural fit for this high level appointment."
Aimee oversees the daily operations of Dorigo's Product Success Teams, each of which consist of a Product Engineer, Buyer, Material Planner and Account Manager with a clear and proactive mandate to ensure customers gain value and top level service with Dorigo as their partner.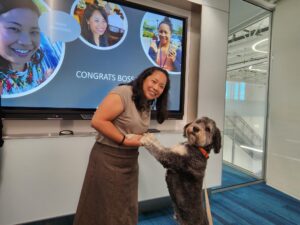 Aimee also received congratulations from Dorigo's mascot, Enzo.